Friday, March 29, 2013
First off, wishing everyone a very happy Easter weekend with all your families and loved ones!
Dear March-Not so sad to see you go. You were way too chilly and contained more snow than I would have liked.
Dear Wedding-Just about two months!! EEEEEEE!!!
Dear G.I. Joe- I can't wait to see you tomorrow! Been seeing commercials for months now and it's finally here. Yes, I am aware this might make me sound a bit crazy but it's ok.
Dear 7 Day Diet-This time was much harder than the first time around. All I wanted to do was eat everything and give up. I did make it through but had a few cheats this time around. Definitely might be hard to take this up again before the wedding.
Dear Easter Bunny-I must say I have felt a little lonely the past few years. When will you make an appearance again?
Dear Bates Motel-You are such a creepy, twisted show. But I can't wait to see what happens next week. And even though we know the ending...how does it all play out? Do they find the body? What does Norman do to the girl with the oxygen? So many questions!
Thursday, March 28, 2013
I recently became a BzzAgent and I received my first goodie BzzKit about a month ago.
The Neutrogena Cosmetics BzzKit
What's a
BzzAgent
you ask? Great question! Straight from their website..
Connecting people and their favorite brands since 2001, BzzAgent is
the
leading social marketing company. What's that mean to you? We put products in the hands of hundreds of thousands of real consumers and help them share their opinions about them with friends and family via reviews, Facebook posts, photos and videos, blog posts and more. We wouldn't call ourselves heroes, but it's okay if you want to.
Basically, you sign up all your social media outlets, answer some surveys and watch your Bzz Score go up. As it goes up you can qualify for your BzzKit. Took me about a month so super fast.
Why am I waiting until now to write this review? Because I like to give real reviews. And I need the adequate amount of time to really test the swag. Yes, I just said that.
Here is everything I was sent in my kit:
Neutrogena
®
MoistureSmooth Color Stick in Sweet Watermelon
Pros: Glides on smoothly. Feels like you are drawing on your lips. Nice scent. Long lasting
did you think there would be a post without Lily?!
Cons: If anything, maybe just a little large to carry in a clutch on a night out but then again, more bang for your buck!
Overall: Will try out in other colors most definitely!
Neutrogena
®
Healthy Lengths Mascara in Black
Pros: Makes your lashes really stand out almost as if you had a slight layer of fake eyelashes. Doesn't take multiple swipes either to achieve that affect. And as for clumping, as long as you swish a little, no clumps!
Cons: It comes off in clumps, so if you rub your eye a piece might fall off on your face without you realizing. Actually, happened to me a few times. Black pieces on my face.
Overall: Black pieces or not, I love that this enhances my eyelashes and makes them look fuller. Will definitely keep using this.
Neutrogena
®
Crease Proof Eye Shadows in Lasting Taupe and Constant Copper
Pros: Easily glides on. Great for when you are in a hurry to get out the door.
Cons: Ok, so let's start by saying I have extremely oily skin. And eyelids. Is that weird? So I rely so much on my primer for my eyes before I put any eyeshadow on to prevent the creases.
Therefore, I was a little hesitant skipping the primer to try out this eyeshadow (It has a built in primer) But I did it. It lasted for the first 5 hours of my day, but after that the creases creeped back in. And when that happened, it also became very sticky. Like my eyelids were stuck together.
And when I used my primer with it, it made it more sticky.
Overall: I will use this when I have days off and I'm running a quick errand out. But otherwise it doesn't work with my primer so I can't wear it for long wear.
Want to be a BzzAgent and receive great BzzKits like this? Leave your email in the comments for me to send you a link!
The wedding bathroom basket. Do you need it? Do guests recognize it?
If you aren't even sure what it is, it's a small basket that is placed in the bathroom with toiletries and small things to help your guests out should they need it. Say they have a headache, bad breath or bad hair.
I will tell you I was at a wedding a couple years ago and was in serious need of bobby pins (I'm having a bad hair decade I tell ya) In comes the bathroom basket!
I see it as a cute way to let your guests know they are taken care of in case something goes astray while they are celebrating your nuptials.
So of course Pinterest helped a sister out and I loved this version of the bathroom basket.
And naturally I just had to link up with Steph my
A BEAUtiful Mess
and Katie from
Keep Calm & Carry on
for Saw it. Pinned It. Did it.
Basket (s) Sizes depend on what you are using it for
Ribbon in your wedding colors
Cardstock (Wedding colors)
Cutter
Box Cutter
Double sided tape
Fun things to put inside!
I scored this at Michael's at their After Christmas sale for $2.00! The liner came right out and is easy to pop back in come Christmas time.
Measured the ribbon to fit around the baskets
You can create the signs in any word processing program. I used ADobe InDesign and they came out well. I measured them to cover the "Seasons Greetings on each basket. It all depends on how big your basket is.
Used double sided to attach the white card stock to the backer pink card stock.
Then, cut a slit in your sign. I put mine right next to the white. Make it the same size as your ribbon because you will have to slide the ribbon through it.
Slide the ribbon through and I then stapled the ribbon around the back. Made it unnoticeable and plus it's the back right?
So happy you're here sharing in our special day!
But just in case something should go astray,
Please help yourself to the contents within.
Hair spray, hand lotion and even aspirin!
Use what you need and just leave the rest
It may also be useful for
Contents
Lotion
Hairspray
Spray Deodorant
Hair ties
Bobby pins
Tampons
First Aid Kit
Tide Pen
Lint Brush
Manicure set
Static guard
My favorite body spray
So happy you're here sharing in our special day!
But just in case something should go astray,
Please help yourself to the contents within.
Hair gel, hand lotion and even aspirin!
Use what you need and just leave the rest
It may also be useful for
Contents
Spray Deodorant
Hair Gel
Old Spice
Lint brush
Floss
QTips
First Aid Kit
**Still adding to each of these including mints and contact solution
I also grabbed a basket for my programs to match the set!
So did you do a bathroom basket? Or been at a wedding where there was one? What am I missing?
*Not interested in going the DIY route for the bathroom baskets or just quite frankly do not have the extra time?
Well, you are in luck!
Uh-Oh! Baskets.
www.uhohbasket.com
. Heather makes color CUSTOMIZED baskets for any event, with any budget. including hotel bags! And they are all personalized and
super
cute so definitely check them out!
Wednesday, March 27, 2013
This is my second time participating in the Cara Box with Kaitlyn at
Wifessionals
. And it has proven to be a great experience both times.
This month's theme was, " What's the letter of your first name?" AKA. Give things that start with their first name.
This month I was paired with Julie from
Oh My Tookies
who I sent some gifts to. I must say, I thought "K" was hard but "J" might just be as hard.
Julie has a cookie business she runs with her family and if your looking for some delicious treats you must check out
Tookies
on Etsy. Just be careful if you are trying to diet for a wedding because while perusing I had to demonstrate a considerably amount of restraint.
Um, Tookie-wiches?
Drooling yet?
I was also paired with Mandee at
Cloud Nine Designs
who has an Etsy shop of her own filled with nice jewelry.
Some of which appeal to the sorority girl in me
And my Cara Box actually included on of her pieces and it's the cutest!
Here's the rest of the goodies she sent me and being a "K" name I knew it would be slightly challenging but she did great.
*Missing one Kit Kat that might have been eaten right away...
"K"nowledge with a great book..can't wait to take a second and enjoy it
Make sure to visit both Mandee and Julie's shops and pick up some treats!
Sunday, March 24, 2013
What is your favorite thing about spring?
Spring is my favorite season. I love the flowers blooming, the brighter colors and the warmer days without too much heat involved.
Favorite kind of flowers to grow or receive?
I love me some daisies and lilies of course
What is your favorite nail polish color?
I like to go for the reds and pinks. But these might be some of my new favorites
What is your favorite outdoor activity?
I do like to run from time to time. And when I had a garden I did enjoy planting flowers outside. And of course it means it's time for baseball!
Do you have any fun spring plans?
I do suppose GETTING MARRIED!!! is a pretty fun plan! (Summer officially starts June 21 ;))
I can't wait for the warmer weather to get here to go along with 'spring'!
Saturday, March 23, 2013
All of us that grew up in the 90's grew up with the Disney princesses. My personal fave? Belle.
The little girl inside of me was shrieking.
The story always went princess meets the prince, they get married and live happily ever after
But have you ever wondered what happened after happily ever after? Especially with today's standards of living.
Paint (as he is named on YouTube) decides to tackle this age old questions with quite a bit of hilarity. He goes through the princesses and sings about them in real life. And he is just short of amazing. From harmonizing himself to the lyrics. You must watch this.
Enjoy your Saturday!
Friday, March 22, 2013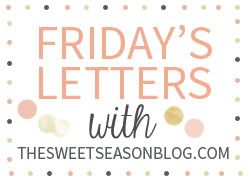 Welcome to my Friday's Letters! For all the newbies, this is a link-up I've been doing for almost a year now. I link up with Ashley from
The Sweet Season
.
Dear New Blog Friends
-Welcome to my little speck of the internet. I really am so happy you are here and stick around. If only to look at pictures like this
She's such a lady!
Dear Lily
- Down another pound! So proud. Now lets get some more stair exercises in before we hit the warmer weather. Then maybe that pose won't look so offensive.
Dear Spring
- Did you get lost? Your GPS seemed to work fine last year. I mean you were here by about March 8th. But this year we are at the 22nd and we have snow in the forecast.
Dear wedding invitations
- Please address yourself.
Dear hairdresser-
You were not up to pare yesterday. Coming home with a strand longer than one side, not ideal. And not putting me under the dryer with the my foil highlights? Not your best idea.
Dear cheeseburger-
You. Me. Thursday.
Dear #backthatazzup-
I already love this link up. I reminisced about 20 songs before choosing the best of the best. Obviously.
Thursday, March 21, 2013
It's time to give this a go again, see how many more wedding pounds I can drop.
Not sure what the 7 Day Diet is or why I torture myself do it?
The perfect place for you to catch up.
Basically, I am detoxing my body for 7 days with a specific diet plan that includes no dairy, minimal meat and the hardest part....no wine.
But I must fit into that wedding dress and look good!
Wednesday, March 20, 2013
Today is the first day of spring!! To celebrate,
Newlywed Moments
and friends (me included!) are giving away a KitchenAid Mixer!! Why? Because it's a newlywed must-have. *Fingers crossed for mine on my registry* I heard you can just leave it mixing while finishing up another part of dinner. Sounds helpful to me! One lucky reader will win this white-colored
KitchenAid Classic Series 4.5 Quart Tilt-Head Stand Mixer
! Rules & Information: -- Giveaway is open to U.S. readers only. -- The winner will be verified, so please enter honestly. -- The winner will be notified by email on 3/27/13 and will have 24 hours to respond.
We have all heard it. The little poem that is supposed to bring the bride and the couple good luck
Something old represents continuity; something new offers optimism for the future; something borrowed symbolizes borrowed happiness; something blue stands for purity, love, and fidelity; and a sixpence in your shoe is a wish for good fortune and prosperity, although this remains largely a British custom.
But the question is, is this tradition as popular today as it was 10 or so years ago? Are brides becoming too modern to make sure these staples are with them during their walk down the aisle.
Many brides today are not opting for the old, new, borrowed, blue. And forget the sixpence.
As for me, I am still undecided. I think it might have to do with the fact that as we were going through my mom's things, we found her old, new, borrowed, blue. She even had a lucky sixpence for her shoe.
My parents are divorced.
If it didn't work for them and many couples are divorcing at an alarming rate, it must not be THAT lucky. Maybe that is what is causing many brides to throw away this tradition.
If I do so decide to follow this tradition, these are the fun little things I found
So did you have a something old, new, borrowed, blue?