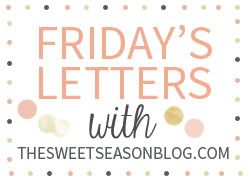 Dear Readers- Make sure to follow me on BlogLovin!
Dear Fiance- Thanks so much for being the best fiance ever! You know why ;) Especially opening the ginger ale with an electric wine opener. Oh yeaaaa.
Dear weekend- You are much needed even after a shorter week. Can't wait to see if we win big on Sunday. For what you might ask? Go
here
and you can see! (And if you so feel inclined to vote;)
Dear apartment- Maybe you can convince me to stay another year? You have a good week to do it.