Tuesday, April 30, 2013
This summary is not available. Please
click here
to view the post.
Friday, April 26, 2013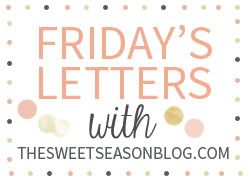 Dear apartment-
Get yourself in gear. As in, unpack all the new fun things and find space for them. Yes, like yesterday.
Dear Bikini Series
-I am very excited to take part in you and get my beach body just in time for the honeymoon! If you want to know what I'm talking about, check out
Tone it up
!
Dear wedding planning
- May 1 is aboutttt 6 days away. The deadline I set for myself does not go well with what wedding vendors like. Why can't I choose my music a month ahead of time? Not a big deal, people.
Dear Beast
-Let's tone it down on repairs until say, about August at the minimum. My wallet can't afford much more.
Dear tax refund
-Please be on your way in the mail via the USPS system. The wedding could use a little bit of this extra moola in my pocket.
Dear new shorts
-I'm in love. Not showing my booty and don't ride up? Perfection. Might even have an "I love my new shorts" post sometime soon so all of you can see the amazingness.
Dear weekend
-Let's do this. 70 degrees. Wedding planning. One week until Iron Man.
And now time to #backthatazzup, Please don't judge me. Or do. It's cool. But this song by Selena Gomez is quite catchy and I can get a good jam goin with it.
Thursday, April 25, 2013
Everybody needs a little cheer every once in awhile. And right now I could use a little bit extra.
A little inspiration. A little pep in my step. I seem to be dragging lately and I need a bit of a smile of positiveness.
And for the exciting news... would you be interested in winning one of these?
Well, now you can. Head on over to
Classy Living
where I am hosting a giveaway for a lucky bride to be, maid of honor, bridesmaid or any other person to win!!
Tuesday, April 23, 2013
Hi Everyone! I'm Lily!
Hey, that's me!
Having a serious moment
I am a 3 year old "fluffy" kitty. That's what mommy calls me instead of chubby. Even though I am carrying around a little extra weight.
I was saved from a wood pile in the middle of winter. Thank goodness. I couldn't live that life.
Wee Baby. Messy face.
Mommy graciously took me in and has made a wonderful home for me. I really enjoy the little things.
Like my very own bed and occasional workouts.
Me in my slimmer days.




I have a few best friends. "Man" is one of them. He might be a Christmas bear but we've been buddies since the beginning.




Love him.
Some of my hobbies include looking out the window spying on my neighbors, watching TV and checking my Facebook.
I was waiting on Sandy.
Not an attractive view of my butt.
Kardashianssss.
Wait, is the screen off?
My favorite parts of my day are all of the lounging around. I can not get enough.
Can I get any cuter?
And mornings cuddles.
Mommy and I have our cute moments. I'm more of a cuddler than a be helder.
When I have bad days, I take a time out in the bathtub or under the couch. I think it has something to do with the fact that the bathroom was my home for the first few months of my life.
where am I?
Mommy says I have some crazy antics. I just see it as having fun and living the cat life.
What? Is this weird?
And that is me. In a nutshell. I'm sure you'll want to see me a lot, so best follow my mommy on
Instagram
!
Linking up with
Mallory
for Paws to Claws!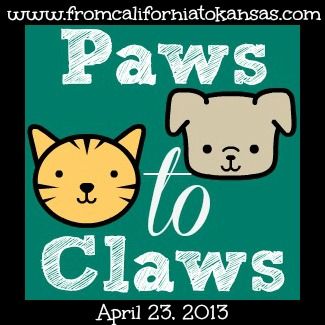 Saturday, April 20, 2013
Today is full of memories,
Happiness and tears,
Of birthday celebrations
we've shared throughout the years.
And though I'll always miss you
The endless joy you brought
Warms my heart with gratitude
And fills my every thought.
Wherever you are resting,
I hope that you can see,
How precious and uplifting,
Your memory is to me.
I feel that you are with me
In everything I do
So I'll celebrate your birthday
But I'll spend it missing you.
Always miss you.
Always love you.

Happy Birthday in Heaven, Mom!
Wednesday, April 17, 2013
Best friends have a love for Etsy <3 You can find it here
This past weekend I was "showered" with lots of love and gifts at a lovely shower thrown by my wonderful bridesmaids. They are seriously the best and I had an amazing shower. The theme was "Tea." I love me some tea!
Get ready for a fabulous picture overload!
True love.
My bridesmaid (Big) made these adorable cupcakes. Also, notice Mrs. Potts!
She needs a bakery now.
Date night ideas for when we are out of ideas
I have very talented bridesmaids <3 Carnations were my mom's favorite.
Favors
Adorable prizes for tea themed.
My soon to be hubby showed up with a dozen roses!
Maid of honor and sister who planned the shower!
Brian's family at my shower
The BEST Bridal Party (Missing a super special one in California)
Us with my my mother in law
My high school gals
Time for the tradition of the bow hat!
My college gals


My AXiD Sisters
And now for a little wishing well mishap
And I truly think present opening makes for the BEST pictures...and by best, I mean funniest. Enjoy!
"Heck yes, I got a salad set!"
"It's keuriggg"
"Whoa nelly. My dress!"
"Can't wait to be married and Instagram these."
"Wait, let me catch that paper."
"Cheese for my bff in Cali!"
"Sitting on my nightstand when I go home."
"Chaaa Yahhhh"
"Just saying cheese to make this a little less mundane."
"These Martha Stewart knives are hilarious!"
"Well, pshhh. My toasting flutes."
Cutie mother in law.
"I love my man bag"
"Laugh now. You'll hear about it later."
"This thing is going to kill us!"
"Omgosh a griddle that I wanted. Gross."
"Utensils for everyone!"
"Son of a gun. There goes my $30 manicure."
And a few outakes after we got back.
Pose.
lovie.
And I am linking up with
Bourbon and Glitter
for The Part Don't Start Till' I Walk In. Um, basically my life is a fun party.