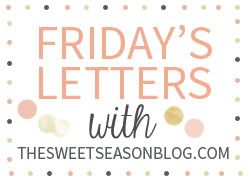 Dear apartment-
Get yourself in gear. As in, unpack all the new fun things and find space for them. Yes, like yesterday.
Dear Bikini Series
-I am very excited to take part in you and get my beach body just in time for the honeymoon! If you want to know what I'm talking about, check out
Tone it up
!
Dear wedding planning
- May 1 is aboutttt 6 days away. The deadline I set for myself does not go well with what wedding vendors like. Why can't I choose my music a month ahead of time? Not a big deal, people.
Dear Beast
-Let's tone it down on repairs until say, about August at the minimum. My wallet can't afford much more.
Dear tax refund
-Please be on your way in the mail via the USPS system. The wedding could use a little bit of this extra moola in my pocket.
Dear new shorts
-I'm in love. Not showing my booty and don't ride up? Perfection. Might even have an "I love my new shorts" post sometime soon so all of you can see the amazingness.
Dear weekend
-Let's do this. 70 degrees. Wedding planning. One week until Iron Man.
And now time to #backthatazzup, Please don't judge me. Or do. It's cool. But this song by Selena Gomez is quite catchy and I can get a good jam goin with it.