Before you get married, you hear" When are you getting married?" or "Why aren't you getting married yet?"
Then, when you get married it's all about having kids. I am pretty sure it was even mentioned a time or two at our wedding reception. They try to make it all cutesy and sweet but it's the basic, "So when are the kids coming?" "Kids anytime soon?"
I get it. I really do. Some people are excited (as we will be in the future) for us to start a family. Others just see it as the natural next step.However, I have noticed in the past year and a half, beyond the questions, that some people are becoming a little pushy and intrusive when it comes to this topic.
So today I want to address those people.
//Yes, I am aware of my age. I have been the one counting it for the past 27 years. Gasp. 27. Do my eggs dry up at the mention of how old I am or something? 30 is coming quickly and I can figure that out on my own.
//No, I am not pregnant even if I am drinking Ginger Ale. Sometimes the taste of Ginger Ale is refreshing. Let me drink my Ginger Ale in peace without you having a tricky eyebrow saying, "Oh, Ginger Ale huh?"
//Let this lady use the word craving without using all kinds of bug eyes and wondering aloud about the state of her uterus. How do women themselves forget PMS? During that time of the month there are some serious chocolate binges going on around here.
//Just because my uterus is not inhabited the first year does not mean I do not want kids. It just means I do not want them now. Why does it even have to automatically lead to this question? You are the one putting a timeline on me, not me. And maybe I really don't want kids, put that judgmental face away.
//It also doesn't mean I don't like kids. Once again, a little bit rude for you to just blurt this out because I say after a year a marriage we aren't ready for kids just yet. What if I desperately wanted kids and this question sends me into tears because we are having trouble?
//Being responsible enough to know when to bring a child into this world should be praised, not criticized. Careers are changing and last I checked babies can be expensive when you aren't asking everyone else for help. We want to support this kid on our own. Thank us for that.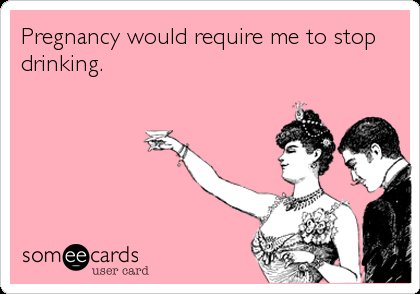 Some couples are ready for kids as soon as they are married. Some married couples have chosen to not have kids. Then, there are couples like us who want to wait until we feel ready even if it years after we are married. All of these are choices the couples make on their own. You do not want to be the judgemental voice around them.
Now, I am off to drink some wine and eat some sushi. Because I'm married, not pregnant and that's ok.
Anything you have been asked regarding your timeline having kids?