Saw this new link-up and I just love the name...Snuggle Saturday!
And how can you resist with the cutest button?!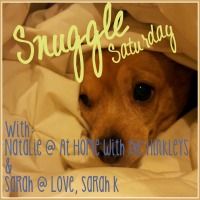 1. Describe your most memorable Valentine's Day
I would say the very first Valentine's Day for me and Brian...our Anniversary is on the 12th so we were only "officially official" for 2 days but he was the cutest. I had gone on a shopping trip with my bff and I remember she kept saying we should get back. So after she rushed me out of the mall...I went back to my dorm and there he was...he had roses and a cute teddy bear all ready for me. He even covered the light with one of my pink shirts to make the room pink..hehe.
2. Describe your worst Valentine's Day
I never had a worst. Even when I was single I was never one of the one's that was like "OMG. I'm single I HATE Valentine's Day." My mom always got us Valentine's and it made it special. And having the best friends to share it with was always great too.
3. What's your ideal Valentine's Day date
Hmm...Ideal...I really would love a super fancy date where you dress up in a nice dress and high heels and feel like you are richer than you are. With a side of champagne and roses :)
So what is your most memorable Valentine's Day?