Hi everyone!!
I am finally trying to get back to a regular schedule with my blog. I have missed doing all my letters and link-ups but I'm sure I can get back into it in the next week. Here are my first Friday's letters for October...when did that happen? Starting it off with a new button!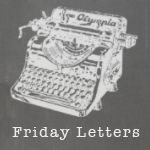 The very most important Friday letter of the day...
Dearest friend Shell-Happy 26th birthday my dearest bridesmaid and oldest friend :)
(oldest as in how long we've been friends because we both know I'll be there in a few months)
I hate that I am so far away from you now and we can't do our quick lunches or dinners but I know we still got it. You are doing amazing things and I am so glad things are working out for you after all those early morning diner shifts "Hello Michelle, where are you?" "Yea I'm almost there"...as your just climbing out of bed hungover. Love you so much have a wonderful day!!
Dear Jaclyn-Happy birthday to you too!! Almost birthday twins you gals are. Hope you had a wonderful birthday and the hubby treated you right :) As always can't wait to join you cool kids in a few months.
Dear Vacation- Even though you are mostly a staycation, I am so glad you are here. I needed this time off to do things I haven't had time to do in months.
Dear Ipod Touch-You have seriously upgraded me from my first Ipod, the very first original pink mini iPod. I am so confused at your workings and get frustrated every other second but I am determined to learn how to use you properly in the next week. Sorry it has taken me two months to do this.
Dear wedding plans-I think you are finally starting to come at a faster rate...the rate everyone else has wanted me to go ;) Save the dates are constructed, programs are almost done, engagement shoot location has been determined and hair and makeup almost locked down. Hopefully hotel done by next week too. Just need to get on the whole dress thing done though.
Dear spare room-Get ready for a serious makeover in the next week. You will become my new office, my new haven and new wedding planning zone. And still of course be Lily's room and have her bed. Spoiled kitty much?
Dear fiance-Get ready for all the wedding fun!! The only reason I am letting you play endless hours of NBA 2k13 is because you have been pretty patient with all the wedding questions and tasks. So you can be rewarded :)
Can't wait for three weekends off in a row!!