Absolutely my favorite time of the year! So naturally I want to participate in any and all blog link-ups I can for Christmas!
And in the fashion of my Tuesdays...the Tuesday10! And this week it's all about
your favorite Christmas music.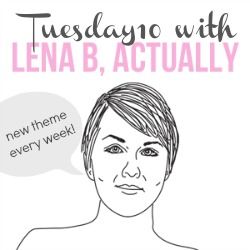 So let me discuss my favorite Christmas jams. The ones I belt out like I am Mariah Carey and have some semblance of a singing voice. And I will add all the videos. For you guys of course. Not so I can play them continuously...
1. All I want for Christmas is You- Mariah Carey
Don't care what anyone says...will always be a Christmas favorite!
2. Merry Christmas, Happy Holidays- N Sync
3. Rockin' Around the Christmas Tree
4. Christmas Wrapping
Don't know why, just love it!
5. Where are you Christmas?- Faith Hill
6. I met an Angel on Christmas Day- Celine Dion
A lot of people don't know this one but it's a good one!
7. Have Yourself a Merry Little Christmas- Christina Aguilera
8. O Holy Night- Carrie Underwood
9.It's beginning to Look a lot Like Christmas
10. Christmas Shoes
Even though this can easily bring the waterworks...I love it's meaning
And there you have it folks! Please enjoy and have a wonderful, Christmasy day :)