Found this cute link-up from Jade at
An Organized Mess
. It's a Sunday Social! Basically a few questions you get to answer about yourself. So make sure to link-up with Neely at
A Complete Waste of Makeup
to join in on the fun!
Favorite Movie of All Time
?
Tricky, tricky. Only because my movie collection looks like this.
Yes, I love my movies so it might be hard to pick just one. But I love It's a Wonderful Life and Sweet Home Alabama.
Favorite Movie Quote?
Again a toughie, love too many! But here are a few faves.
"You tell them that our lives can change with every breath we take... and you tell them to hold on like hell to what they've got. Each other, and a mother who would die for them and almost did... You tell them we've all got bad in us, but we've got goodness, too. And the only thing worth living for is the good. And that's why we've got to make sure we pass it on." Where the Heart Is

Do you also go around telling small children that Santa Claus doesn't exist? 'Cause someone needs to blow that ship wide open." -27 Dresses
Best movies for a girl's night?
Easy.
etc., etc.
Forgetting Sarah Marshall. Or He's Just not that Into You.
Favorite celeb eye candy?
Which stars closet would you like to raid?
Carrie Underwood
From casual to glam this girl knows how to rock it. And maybe with the wardrobe I could get the legs in there somewhere too.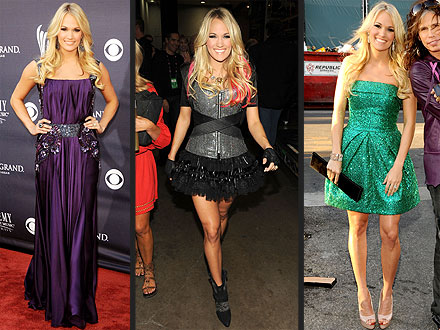 And of course a Happy Father's Day to all the dads out there including mine! and uncles and cousins and friends!