Hey all!!
I am linking up this Friday with Friday's letters. It's my first time so it might be a little short. Work with me people!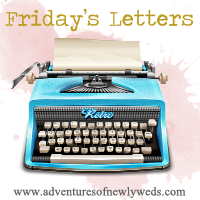 Dear Friday:
Thank you for being the best kind. Pay day and weekend off!
Dear Future BIL
-Congrats on your graduation from college!! Taking me back three years to that same spot....So excited for you!
Dear Lily
-Please stop taking off your collar like it is a game where I can find it every morning. Thank you.
Dear Fiance
- You are being super awesome this week and I appreciate it all and everything that you do.
Dear NJ Devils
- Yay Eastern Conference Finals! Can't wait to see what the match up will be!