Today is a Sunday filled with chores, lounging, speech writing, maybe a mani/pedi in there somewhere.
1. What is the name of your blog and how did you come up with it??
It's called Life Somewhere in the Middle. I came up with when I first started the blog because my life felt somewhere in the middle. I had graduated college, didn't find a job. was still dealing with losing my mom and was just in that middle place.
2. What do you love the most about blogging??
I love writing anything. And blogging allows me to write what I want, when I want. No Agenda. The fact that it is also a little community you get to be a part of is something I enjoy and I can't wait to grow mine!
4. What is something you'd want to tell someone just starting out in blog world?
Start on Blogger!! I started my blog on a random website because I wasn't sure I wanted people to read what I was writing. But I wish I had been on Blogger from the beginning 2 years ago. I could be much farther ;) And with that, don't be afraid to share what you write. It's your blog, your feelings, your life.
5. Biggest blogging learning experience you've had?
6. Give us 3 blogs we NEED to be following that you love.
3. Adventures of Newlyweds
(Love her Fridays letters!)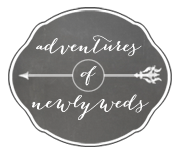 And if I ever figure out how to add their buttons on the side I will!